Dream debut for HCB-Rutronik Racing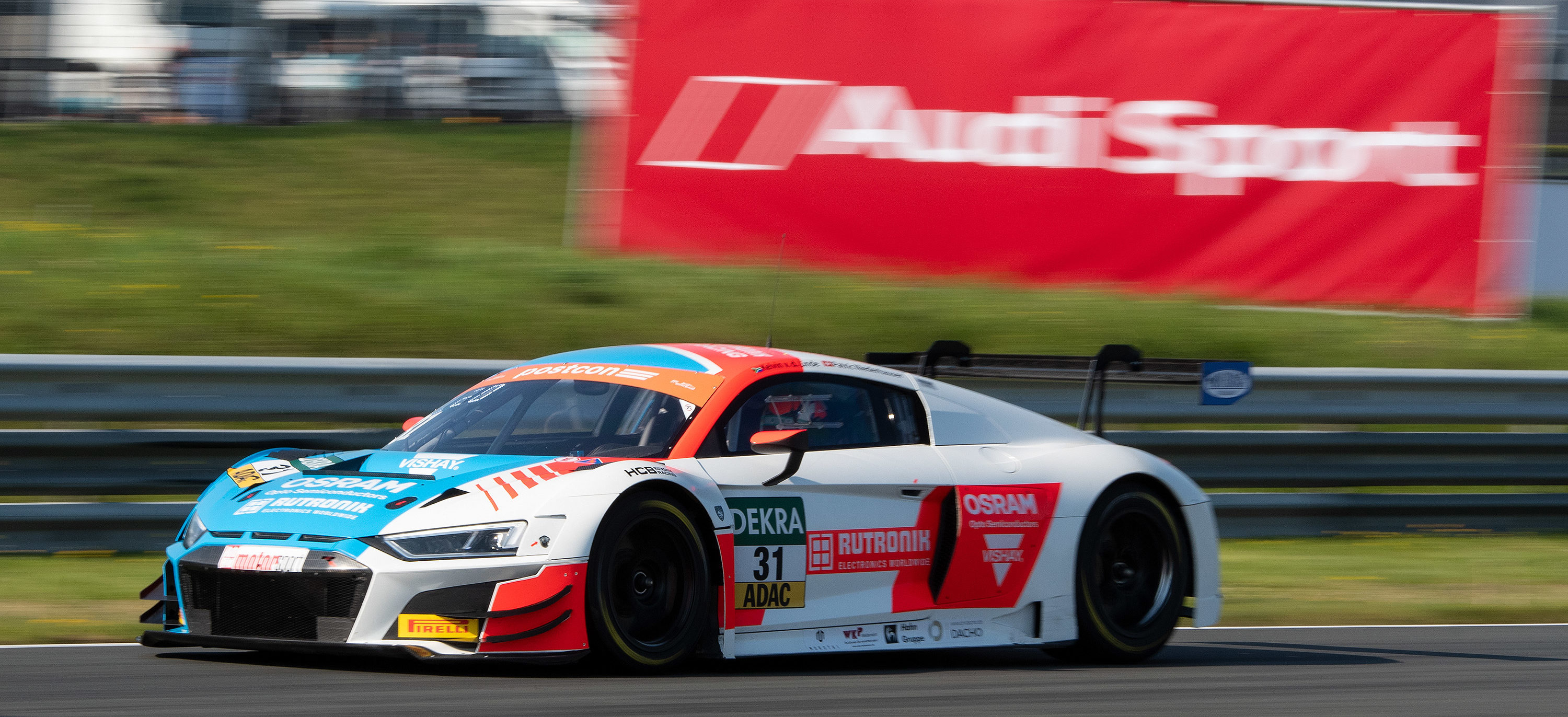 Last weekend, the opening event of the ADAC GT Masters season took place in Oschersleben. In changeable weather, with a record fan attendance, HCB-Rutronik Racing made its race debut in the series and impressed with a podium finish in the first race.

South African Kelvin van der Linde and the Swiss Patric Niederhauser drove the number 31 Audi , while the German duo Dennis Marschall and Carrie Schreiner shared the steering wheel of car number 8.

The excitement of the first qualifying session was increased by several crashes and red flag interventions, out of which Patric Niederhauser emerged an outstanding 3rd.
Niederhauser and van der Linde confirmed that their qualifying performance was no fluke, and came home a fantastic 2nd position in a rain thriller, the first podium placement for the new team on their debut.

Sunday's second qualifying took place in wet conditions, where van der Linde was able to secure 8th position on the grid for race 2.

Race 2 once again offered the fans GT racing at the highest level, in which the HCB-Rutronik Racing Audi with start number 31 just missed out on a second podium finish. Regardless, the team was happy with the large string of points despite having to do Race 2 with 20kg of success ballast which was put into the car after the Saturday race.

The team now heads to Most currently second in the Drivers Championship, as well as in the teams championship, something nobody could have expected before the race weekend.

Team boss Fabian Plentz:
"It was an absolutely emotional weekend for us. We've been preparing for the season opener for so long and then celebrating it with a podium finish was just awesome. I would like to take this opportunity to thank our drivers and the entire team. Everyone did a flawless job. The level of the Championship is extremely high, which makes it particularly important to work meticulously for the entire weekend. I'm really proud of my team and look forward to the rest of the season! "

The next round of the ADAC GT Masters will take place in two weeks, from 17.-19. May in the Most.
---
---