Mid-Season Roundup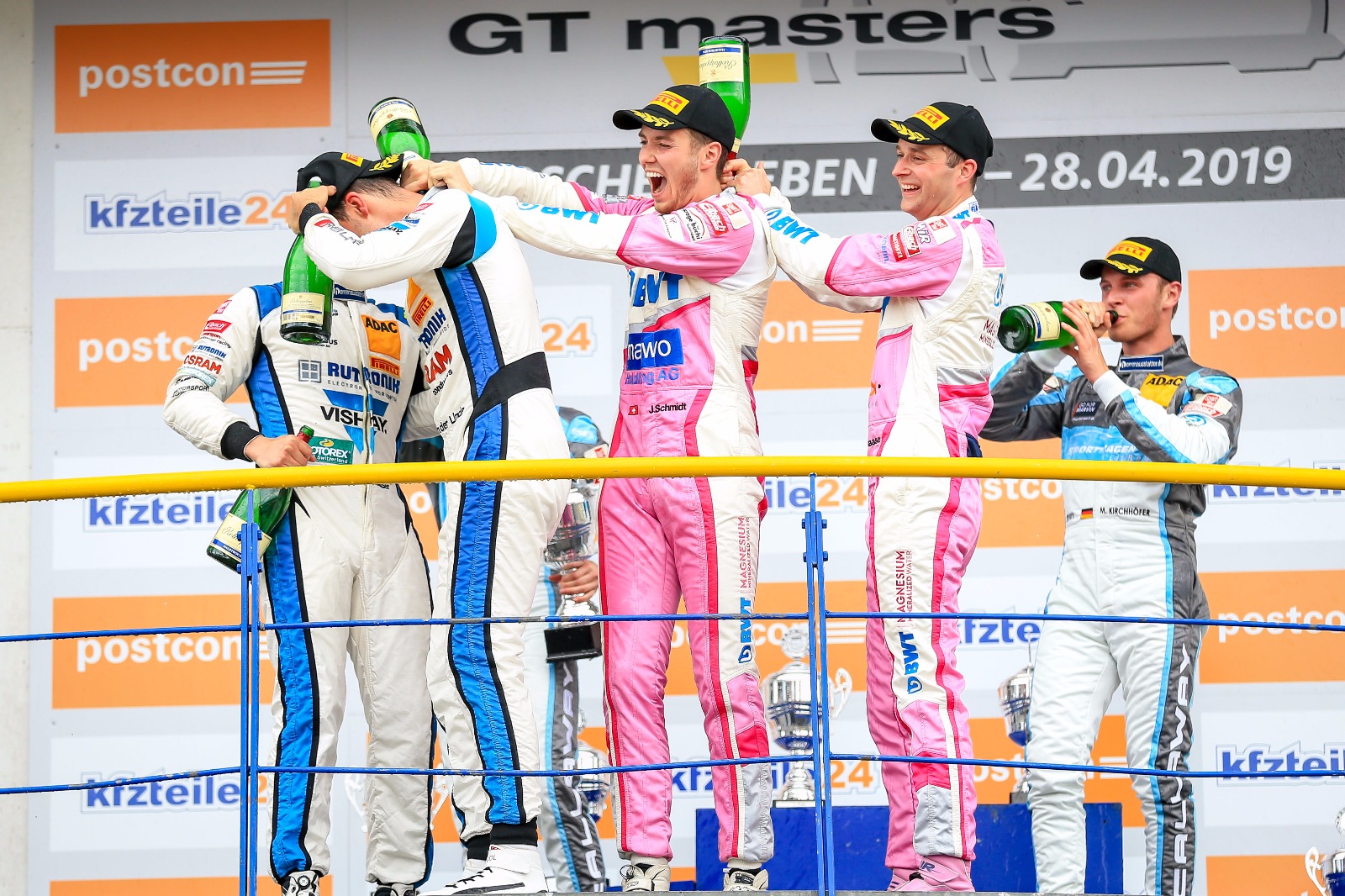 It's been one of my busier summers so far, having nine race weekends in the last two-and-a-half months. At the same time it has been a summer of mixed fortunes, with some very high moments and equally low moments.
We went into ADAC GT Masters in the best possible way, by adding to our strong points haul, and securing our championship lead heading into the mid-season break, before we get going again in Zandvoort early in August.
It has been a great adventure so far, coming along with a new team and having a run like we have had, is something that doesn't come around often, so I'm definitely trying to ride the wave as long as possible!
From there we headed to my personal highlight and one of the biggest endurance races of the season, the Nurburgring 24 Hours.
The weekend started of a bit slow but as the week progressed, we began to pick up some momentum. After qualifying outside the top-15, our biggest target was to work our way back into the top-five by the end of the race.
Photo: Gruppe C Photography
However, the 'Green Hell' once again proved its mysterious nature by providing a spectacular race once again.
We spent most of the race on the chase, at one point even trailing the leaders by over 5 minutes! Miraculously though, we found ourselves in contention for a win as Sunday morning arrived.
A number of penalties and crashes by some of the top lineups got us back into the action. With three hours to go we were fighting for the lead with our teammates from Audi Sport Team Phoenix.
I had felt great all week in the car and knew we were in with a shot at the end. However, lady luck had something to say about that and we suffered a tire failure at the most inconvenient moment on the racetrack, just after joining the Nordschleife.
Having to run almost 20 km without a right rear tire obviously had its challenges.
As if the puncture was not enough, the carcass of the tire did not detach from the rim and as a result I had a massive rubber belt destroying everything in its path.
The car took a serious beating, the tyre eventually destroying all our oil coolers which are situated at the right rear of the car. I was forced to stop the car as a result and endured one of the hardest moments in my career, just hours away from what would have been an unbelievable comeback for our team.
It was a massive blow for me, especially because it's a race that carries so much weight and importance in my life.
However, in motorsport and especially GT racing, we don't have much time to dwell on the past. Tuesday morning, I was already home doing all my washing and packing my bags for the following weekend.
Photo: SRO
Our Blancpain GT Series season has also been a difficult one so far, characterized by a lot of technical failures and sometimes just pure bad luck.
A solid top-five result in Misano was hampered by an air jack issue on Sunday and a back-to-back DNF in Zandvoort due to a brake failure on Saturday and collision for my teammate, Clemens, on Sunday has thrown us out of the championship battle for the moment.
Heading into Spa, one of the more important races of the season, I will be approaching it with an open mind.
I will be on a customer car this year in a support role for Attempto Racing. Coming off a very memorable third place last year with my brother, Sheldon, this year will once again be a new experience for me from a different perspective.
All in all I'm enjoying the busy season so far and I'm happy to sacrifice a bit of luck in Blancpain GT if it helps with the hunt for a second GT Masters title.
Some of my favorite races are still to come, including the Suzuka 10 Hours and my home race for the Kyalami 9 Hour, so I am still fully motivated and ready to tackle the remainder of the season a three-day stopover somewhere in Spain or the South of France for a mini holiday would be nice though!
I look forward to meeting some of you at one of the upcoming events.
Photo: Gruppe C Photography
Tour Dates: July – September:
BGT , Zandvoort – 7.13
24 Hours of Spa – 7.27
GTM, Zandvoort – 8.10
GTM, Nürburgring – 8.17
Suzuka 10H – 8.24
BGT, Nürburgring – 8.31
BGT, Budapest – 9.7
GTM, Hockenheim – 9.14
GTM, Sachsenring – 9.28
---
---