Free practice in Oschersleben. Top-of-the-table van der Linde in a league of his own – test aborted following accident.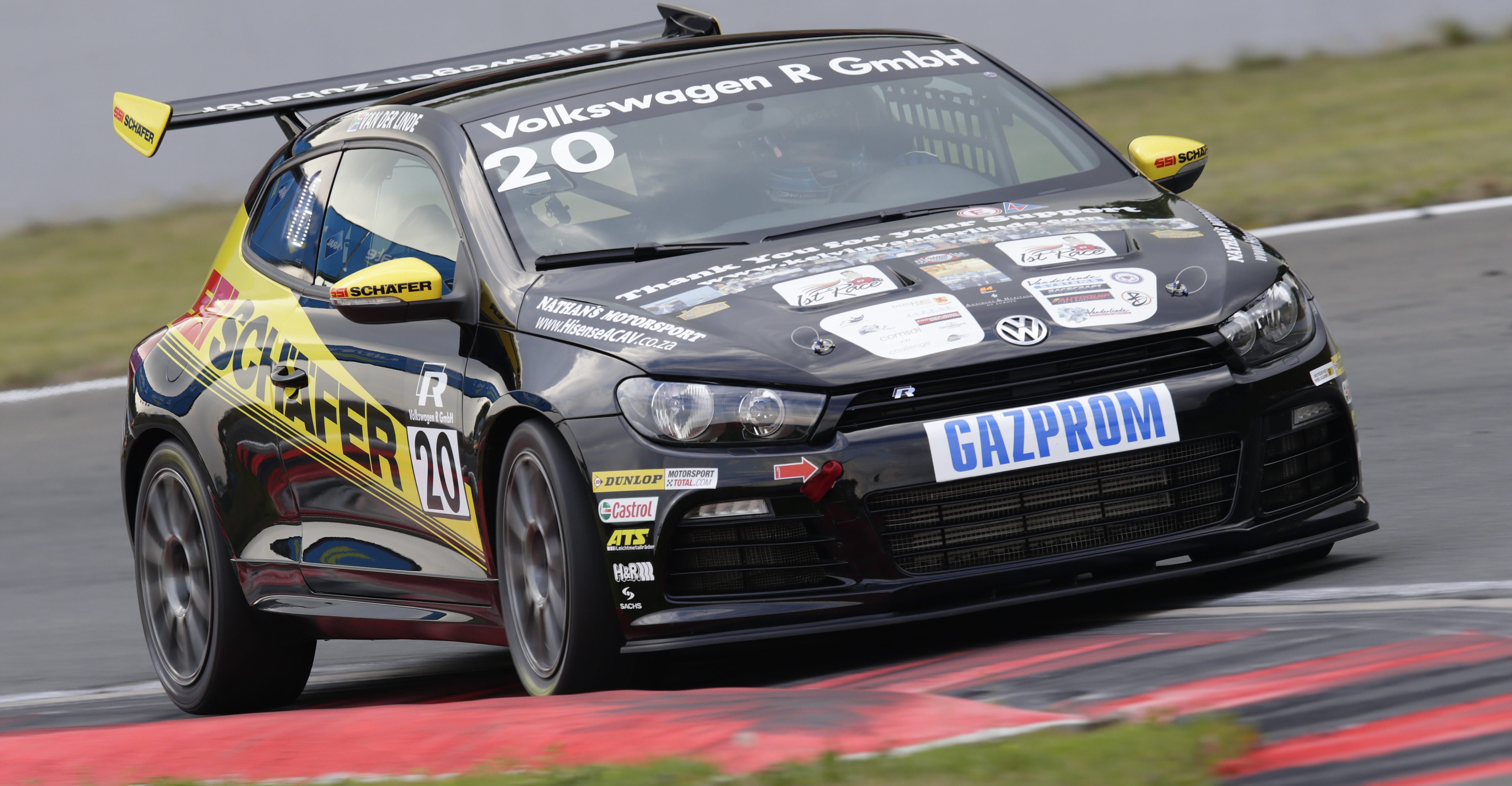 Kelvin van der Linde (South Africa) outclassed his competitors during today's free practice for the Volkswagen Scirocco R-Cup, the world's only single-make championship powered by natural gas. The first test at the Motorsport Arena Oschersleben had to be aborted after Michele Di Martino had an accident. The 20-year-old German driver crashed into the track barrier after making a mistake. Based on an initial diagnosis, Di Martino is not believed to have suffered any serious injuries, but he was flown to Magdeburg University Clinic by air ambulance for a further examination to be on the safe side. He will miss at least the first race.
Prior to the accident, top-of-the-table van der Linde was more than a second faster than the second-placed British driver Ross Wylie (1:41.724) with his best lap time of 1:40.649 minute. Kasper H. Jensen from Denmark finished third (1:41.865). 17-year-old van der Linde could secure the Cup title in this weekend's two races with one more round still to go. He is leading in the overall standings, 60 points clear of his compatriot Jordan Lee Pepper, who only came sixth in today's practice. The only competition remaining after the event in Oschersleben is the season finale at the Hockenheimring on 19 October.
The racing legends put in another impressive performance during the first test of strength in Oschersleben. Former DTM champion Kurt Thiim from Denmark (55) claimed eleventh place in the overall standings, distancing himself from his eternal Scirocco rival Klaus Niedzwiedz (62). The veteran racing drivers from the neighbouring Netherlands also showed the youngsters what they could do: former Formula 1 driver Jan Lammers (57) took 19th place and two-time Indy 500 winner Arie Luyendyk (59) finished 21st.
Qualifying starts at 11:00 hrs on Saturday with the Cup Sciroccos, followed by the first race in Oschersleben at 16:25 hrs. The second race of the season's penultimate weekend is scheduled for 10:00 hrs on Sunday.
---
---