Van der Linde Paired with Rast

Prosperia C Abt Racing are to tackle the defence of their ADAC GT Masters team title with three Audi R8 LMS ultras and six terrific drivers. As last year, when the Audi team achieved victory on their debut in the etropolis Motorsport Arena Oschersleben, team bosses Christian Abt and Slobodan Cvetkovic are to deploy a mixture of youngsters and more experienced drivers. The team will be bolstered by ADAC Sports Foundation protégé Thomas Schöffler, Kelvin van der Linde from South Africa and Fabian Hamprecht for the 2014 season.
Van der Linde, last year's winner of the Volkswagen Scirocco Cup and a student at the FIA Young Driver Excellence Academy and Schöffler, winner of the 2013 Super GT Sprint Series in the Audi R8 LMS ultra will be lining up for the first time in the Super Sports Car League. Hamprecht, whose younger brother Philip will be joining Formel ADAC this season, lined up last year in a Lamborghini. Porsche Carrera Cup champion Nicki Thiim from Denmark, who is returning to the ADAC GT Masters after a year's break is also new to the Audi team. Ex-Formula 1 and DTM driver Markus Winkelhock and René Rast will remain at Prosperia C Abt Racing for a second season.
"We are well prepared for the new season with this promising driver line-up. Our new young drivers have definitely already proven their speed but could certainly learn a lot from their more experienced team-mates. The end result is a perfect blend of youthful carefreeness and an awful lot of experience that will certainly bring us much to celebrate this season," said team principal Christian Abt with some conviction.
"A strong driver line-up, coupled with a fast car are the prerequisites for success in the ADAC GT Masters," said Slobodan Cvetkovic. "I am therefore very proud that we have managed to strengthen our team once again for the 2014 season. I am certain that with this driver line-up we can play a key role in the fight for race wins and the championship in this extremely competitive racing series."
Thomas Schöffler will race with Markus Winkelhock, Fabian Hamprecht and Nicki Thiim make a pair, and Kelvin van der Linde is to line up with five-time ADAC GT Masters race winner René Rast.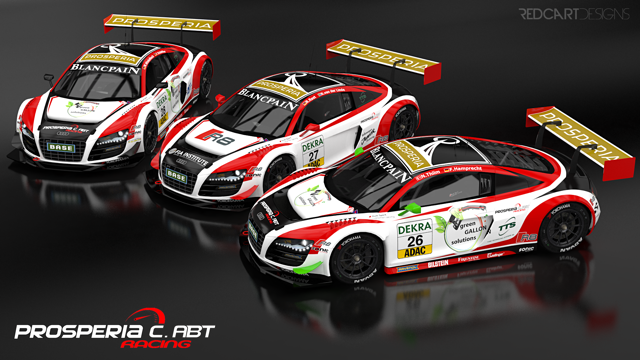 ---
---