Race one in Spielberg: Victory for van der Linde as race is abandoned – Stuck duo leads the legends.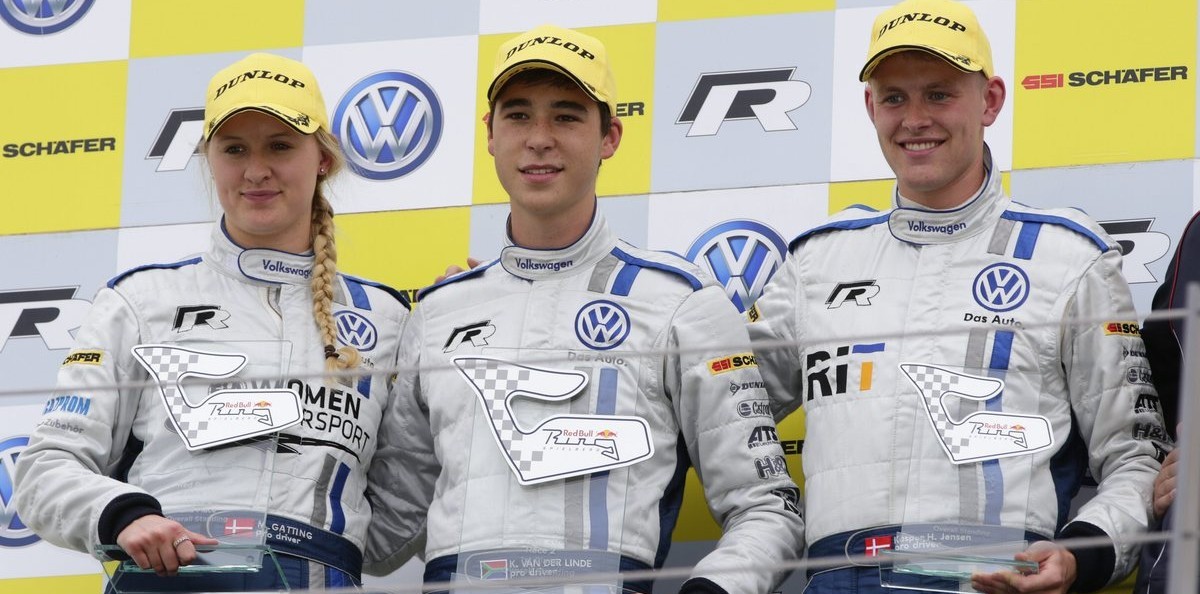 From pole to victory: Kelvin van der Linde won an eventful first race in the Volkswagen Scirocco R-Cup in Spielberg. The South African triumphed ahead of Denmark's Michelle Gatting, who produced another impressive display. Victory for van der Linde takes him to the top of the overall standings in the one-make cup. Third place in race one went to Jordan Lee Pepper from South Africa. The race had to be abandoned before the end following a crash involving Ross Wylie (Great Britain) and Marcel Müller (Austria).
The best of the Legends drivers was Hans-Joachim "Strietzel" Stuck, who finished a remarkable 12th in his Gazprom-Scirocco. The 62-year-old was making his comeback at the Red Bull Ring after a two-year break from racing, and finished three places ahead of his son Johannes (26). The duo joined forces to win the team duel for the Motorsport Allstars against the DTM Legends. Christian Danner (55) came home 19th, while Klaus Niedzwiedz (62) had failed to complete the race.
The second race in the Scirocco R-Cup gets underway at 15:25 on Sunday. The first eight drivers from race one will line up in reverse order, meaning Sweden's Mikaela Ahlin-Kottulinsky will start her quest for victory from pole position.
"My start was not good and Michelle put me under immense pressure right from the word go. She really surprised both me and Kasper Jensen with her overtaking on the uphill section just after the start. We were involved in a tough, but fair duel throughout the race. I tried to save my permitted uses of the Push-to-pass system for the second half of the race, and that worked well, despite the safety car phases. All in all I am extremely happy with my first victory. It was a new circuit to me, so it was a combination of racing and learning more about the track each lap."
OVERALL RESULT
| Position | Driver / Nation | Category | Time | Laps |
| --- | --- | --- | --- | --- |
| 1 | Kelvin van der Linde / ZA | Pro | 18:31.980 | 10 |
| 2 | Michele Gatting / DEN | Pro | 18:36.593 | 10 |
| 3 | Jordan Lee Pepper / ZA | Junior | 18:36.932 | 10 |
| 4 | Kasper H. Jensen / DEN | Pro | 18:37.478 | 10 |
| 5 | Ross Wylie / GB | Junior | 18:38.079 | 10 |
| 6 | Manuel Fahnauer / GER | Junior | 18:38.441 | 10 |
| 7 | Nicolai Moller Madsen / DEN | Junior | 18:39.096 | 10 |
| 8 | Mikaela Ahlin-Kottulinsky / SWE | Junior | 18:41.391 | 10 |
| 9 | Lukas Schreier / GER | Junior | 18:41.884 | 10 |
| 10 | Matthias Bäurle / GER | Junior | 18:43.140 | 10 |
| 11 | Victor Bouveng / SWE | Junior | 18:43.498 | 10 |
| 12 | Strietzel Stuck / GER | Legend | 18:44.467 | 10 |
| 13 | Patrick Eisemann / GER | Junior | 18:44.810 | 10 |
| 14 | Kenneth Kröpfl / GER | Junior | 18:45.291 | 10 |
| 15 | Johannes Stuck / AUT | Legend | 18:46.080 | 10 |
| 16 | Michele Di Martino / GER | Junior | 18:46.646 | 10 |
| 17 | Sandeep Kumar Ambalavanan / IND | Junior | 18:49.580 | 10 |
| 18 | Marcel Müller / AUT | | 18:49.969 | 10 |
| 19 | Christian Danner / GER | Legend | 18:51.080 | 10 |
| 20 | Dennis Trebing / USA | Pro | 19:08.864 | 10 |
| 21 | Yann Ehrlacher / FRA | Junior | 19:20.124 | 10 |
| Not classified | Luca Rettenbacher / AUT | Junior | 9:07.127 | 5 |
| Not classified | Klaus Niedzwiedz / GER | Legend | 20:29.831 | 10 |
---
---