Van der Linde/Rast 2014 Champions!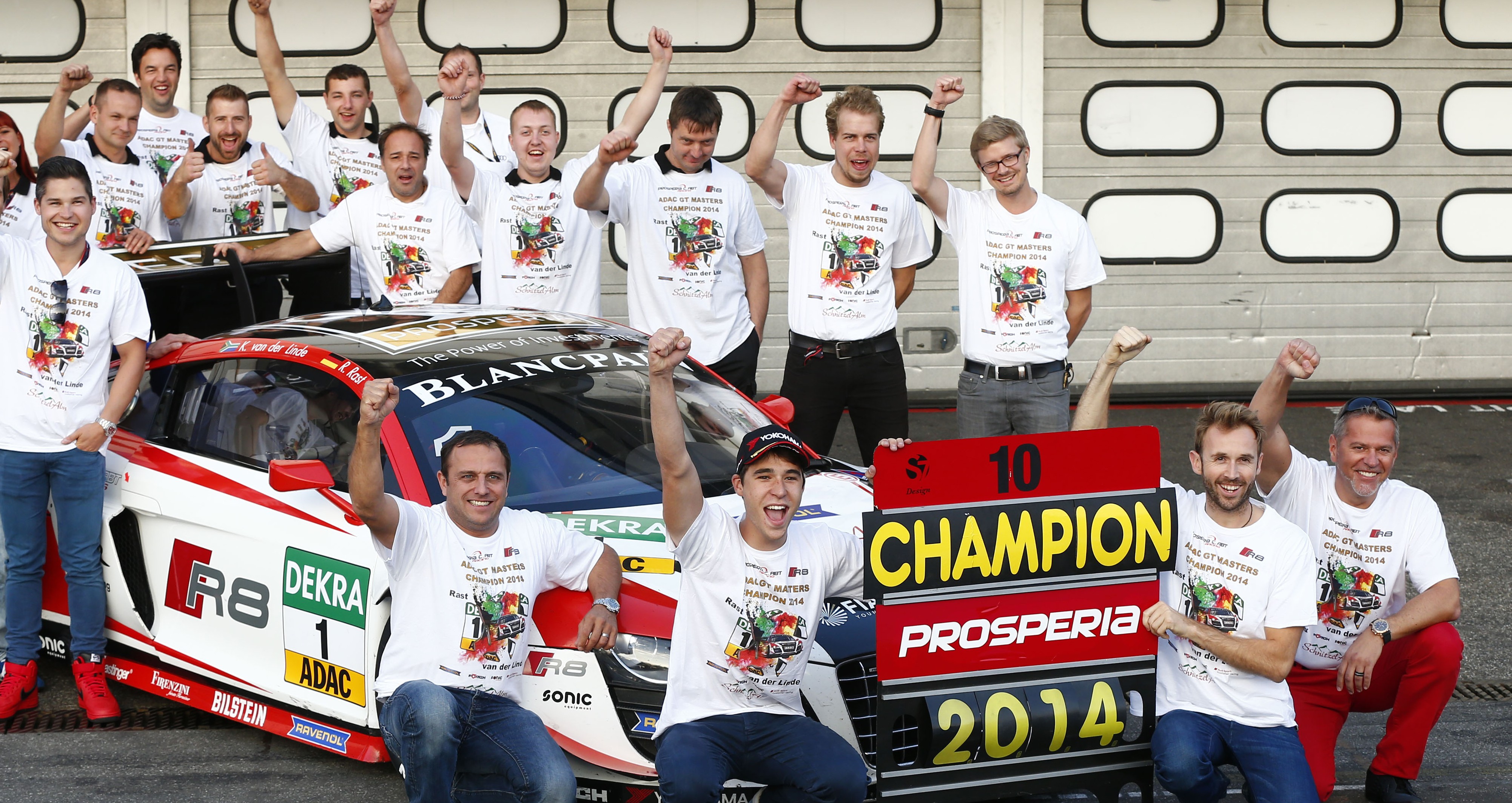 South Africa's Kelvin van der Linde made more motor racing history in Germanylast weekend (October 4 and 5) when he and German co-driver René Rast, 27, won the prestigious international ADAC GT Masters Championship for GT3 sports cars at the famous Hockenheimring grand prix circuit.
Driving a Prosperia C. Abt Audi R8 LMS ultra, the 18-year-old matric student from Dainfern in Johannesburg and GT Masters rookie was 10th in the first of the weekend's two races on Saturday and scored enough points in the one-hour race to make it impossible for his nearest rival, who finished 11th, to overhaul him in Sunday's one-hour race. The points' difference was 36 with 25 available for a win. Van der Linde/Rast had 206 points and Jaap van Lagen, a 38-year-old Hollander driving a Porsche 911 GT3R, was on 170.
The South Africa/German duo finished sixth on Sundayfrom seventh on the grid with Van Lagen and his German co-driver Christian Engelhardt second after starting in third place. The final championship points were Van der Linde/Rast 214 and Van Lagen 188. Prosperia C. Abt won the team championship for the second year running.
So, after eight rounds of two one-hour races per round at some of Europe's iconic motor racing circuits, including the famed Nürburgring in Germany and the Red Bull Ring in Austria, both circuits that have hosted the World Formula I Championship, the talented teenager becomes the youngest ever winner of the prestigious GT Masters Championship.
In the process he equals his fine performance in his international racing debut last year when he won the German-based Volkswagen Scirocco R-Cup Championship, where he was also the youngest-ever champion in his rookie year.  In 2012, aged 16, he was the youngest winner of the South African Volkswagen Cup Championship, a success that set him on the path to international exposure and acclaim. Three successive major motor racing championships before even completing his schooling is an achievement probably not equalled by any South African racing driver before him.
On his way to the title the reigning South African Motor Sportsman of the Year impressed as early as the opening round at Oschersleben in Germany in April, while still only 17 (he turned 18 after round four in June), when he became the youngest pole position and race winner in the history of the ADAC GT Masters.
Van der Linde and Rast scored three victories and finished in the top 10 in each of the eight rounds and 16 races, thus scoring points every time they lined up on the 26-car grid.
The South African, a modest and popular personality in motorsport both at home and overseas, paid tribute to his experienced team-mate, who is rated one of the top GT3 super sports car drivers in the world. During this season Rast also won the Nürburgring 24 Hours in Germany and the Spa 24 Hours in Belgium (both in an Audi R8 LMS ultra).
"I learnt so much from René, who shared all his considerable knowledge and driving skills with me. It was a privilege to have been his team-mate," said Van der Linde. "I must also thank Christian Abt, a very successful driver in his own right and our team owner, for the opportunity to join his crack team. I was a novice and untested in the very competitive GT Masters formula and up against some of the world's top GT sports car drivers. I have grown so much this year and gained so much valuable experience. I can't wait for the 2015 season!"
He also paid tribute to his grandfather, Hennie, uncle Etienne and father Shaun, all of whom are multiple former motor racing champions in South African. Etienne was also a formula champion in Germany and Europe.
Younger brother Sheldon, 15, is following in his footsteps, with two national karting championships under his belt to equal Kelvin's earliest national championship successes. He is currently leading the same South African VW Cup Championship Kelvin won in 2012 with two races remaining.
It has been a remarkable year for Kelvin van der Linde. In addition to his brilliant season on the track, he was adjudged Driver of the Year at the end of the 2014 FIA Institute Young Drivers Excellence Academy programme, in which he represented the African continent and competed against nine other talented young drivers aged between 16 and 25 from six continents and eight countries.
What's in the future for this talented and likeable young man? "First, I must finish school this year and obtain my matriculation certificate. Then I'd like to have a good holiday with my family. Next year I'd like to increase my experience in GT racing for another season and move closer to my ultimate aim of competing in world championship long distance sports car racing."
---
---