Audi gets 2014 campaign underway with double pole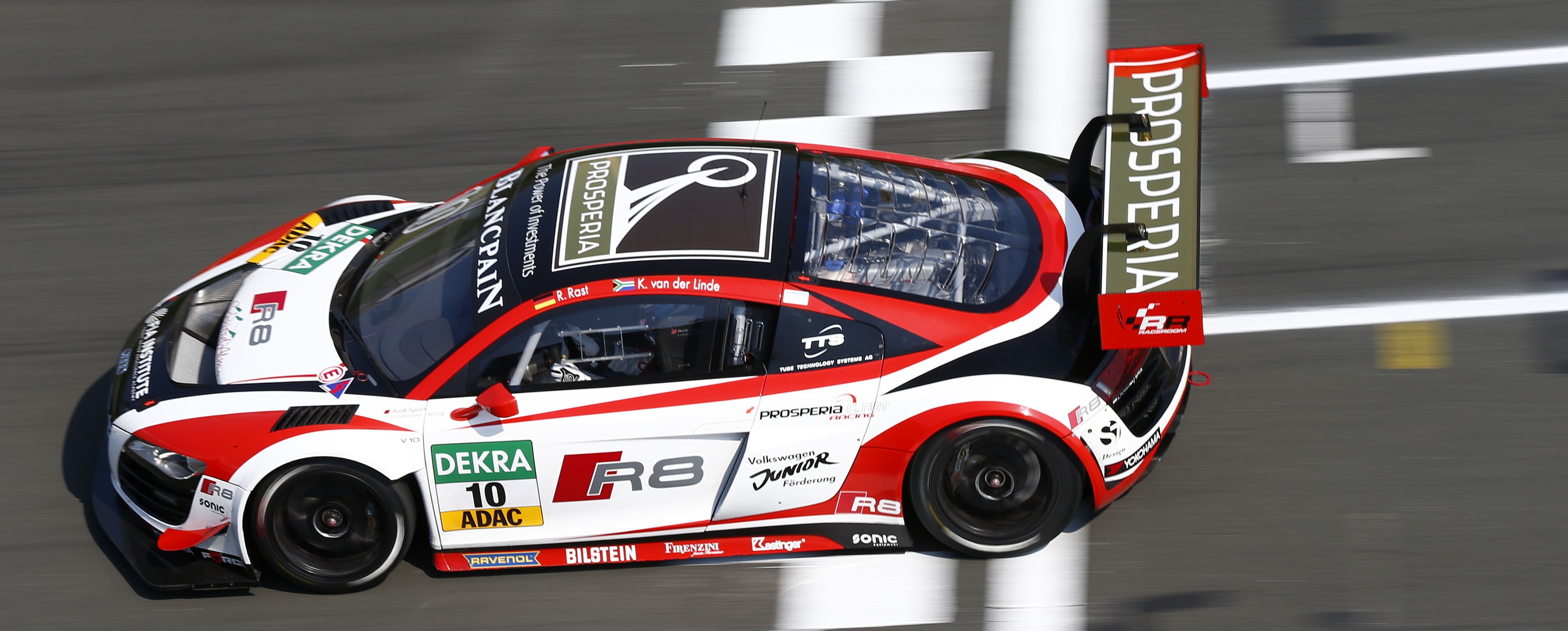 17-year-old Kelvin van der Linde becomes youngest pole-sitter in ADAC GT Masters history. Audi and Porsche separated by a mere 0.002 seconds in tight qualifying.
The Audi duo of Kelvin van der Linde (17, South Africa) and René Rast (27, Germany) have got their season off to the perfect start at the etropolis Motorsport Arena Oschersleben. The two Audi R8 LMS ultra team-mates secured pole position for both Saturday and Sunday (live coverage on kabel eins commencing at 11:45) in the season opener of the Super Sports Car League. Newcomer van der Linde could not have wished for a better start to his ADAC GT Masters career: at just 17 years of age, the South African rookie has become the youngest ever pole-sitter in the history of the series.
Qualifying 1 for Race 1 on Saturday:
Kelvin van der Linde booked himself the front slot on the grid for Saturday's race in a thrilling qualifying session. The Audi driver twice went to the top of the timesheets only to be displaced by Maximilian Buhk (21, Germany) in an H.T.P. Motorsport Mercedes-Benz SLS AMG and then by TONINO Team Herberth's Robert Renauer (29, Germany). On the third run, he then secured pole position, but only by the narrowest of margins: Christian Engelhart (27, Germany) in a GW IT Racing Team // Schütz Motorsport Porsche 911 staged a late attack but had to settle for P2 by the narrowest of margins – just 0.002 seconds. Meanwhile, Renauer and Buhk will be starting Saturday's race from the second row. The two Audi R8s driven by Florian Stoll (32, Germany, kfzteile24 APR Motorsport) and Stefan Wackerbauer (18, Germany, Prosperia C Abt Racing) share Row 3.
"We had a great free practice and the team supplied me with an excellent car for qualifying," said a delighted van der Linde. "René took our Audi to pole position for the second race too, so the prospects for the next two days couldn't be better. Our Audi was strong in today's sessions, even over the distance. If we get through the first lap OK, we should have a really good race."
Qualifying 2 for Race 2 on Sunday:
In qualifying for Sunday's race, van der Linde's co-driver René Rast was not to be outdone, although his pole was a much harder-fought affair. Rast was involved in a tight scrap with fellow Prosperia C Abt driver Nicki Thiim (25, Denmark) before ultimately prevailing. On the final qualifying lap, ex-champion Peter Kox (50, NL) split the Audi duo to park his Blancpain Racing Lamborghini Gallardo on the front row. The second row for Sunday's race consists of Thiim and Dominik Baumann (21, Austria) in his PIXUM Team Schubert BMW Z4. On Row 3 are Jaap van Lagen (37, NL) in a GW IT Racing Team // Schütz Motorsport Porsche 911 and Jens Klingmann (23, Germany) in another PIXUM Team Schubert BMW.
"We can feel well satisfied," said Rast after notching up his maiden pole in the ADAC GT Masters. "During the official tests here, we developed an excellent setup, and I managed to post a very good lap time in qualifying. And a few words of praise for my co-driver Kelvin: he's only just turned 17, has hardly got to know the car yet, and yet he still manages to put it on pole. That's quite some achievement."
---
---