Q & A – Kelvin van der Linde on his 2014 Season – sportscar-racing.net
Kelvin, congratulations to your  successful contract formation with Prosperia C. Abt Racing and your Start in the ADAC GT Masters! How did the team became aware of you?
Thank You. All cars in the Scirocco R-Cup Championship were prepared by ABT Sportline, and after winning the 2013 Championship I was put in contact with Christian Abt who was really excited to bring a young driver into the team. Christian also liked the fact that I had been part of the Volkswagen Group previously, which created a lot of interest from Audi.
What are your goals for the coming season? Will we see other appearances of you besides GT Masters?
2014 will be my first season of endurance racing, so I have a lot to learn, and I believe that I am in a great team with a lot of experience to speed up my learning process. My goal would be to consistently finish races and fight for podium positions which I know the team is capable of, looking at last season's results. My full focus will be on the GT Masters Championship with C Abt Prosperia Racing, should the opportunity arise to compete in other once-off races, I would take it with both hands.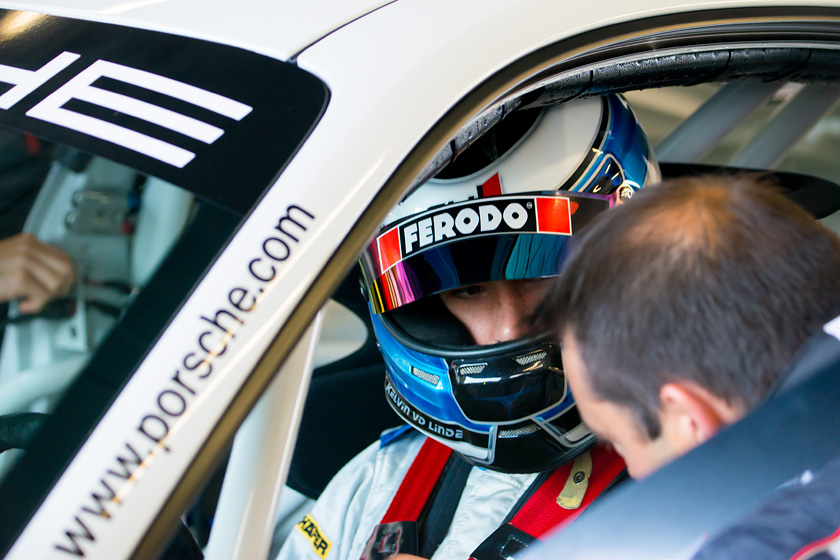 What do you think, how difficult will the switch be, from a Cup-Car to a  GT-Racer?
 At the end of last season I attended the Porsche Young Driver test and I felt really good inside the car. Of Course the Audi R8 LMS will have a lot more power and grip, but at the end of the day, a race car is a race car, and I'm sure I will adapt quickly to the new challenge with the help of my experienced team mate and team.
Which race track in the GT Masters calendar is the most challenging for you and why? To which circuit are you looking forward the most?
Oschersleben, it is a relatively small circuit with a mixture of fast and slow corners which will be very challenging in a GT Car compared to the much smaller Scirocco Cup car. Due to the narrow nature of the track, overtaking is very difficult, so the drivers will need to work extra hard in order to move up the field if they have had a poor qualifying. We are lucky to have the official pre season test there, so all the teams and drivers will have enough time to get up to speed and optimise their setups.

Le Mans, DTM, USCC – Where do you see yourself in the next ten years?
My ultimate goal would be to drive at Le Mans one day with a Factory Audi team. However, I still have a lot to achieve in order to make the next step a possibility. I will continue to build my relationship with the Volkswagen Group in the next few years, and hopefully we can continue with their past success in the future!
What would you order definitely in the restaurant if it's on the menu?
Sushi 
What does the playlist on your iPod look like?
I am a big fan of House music. My playlist would be filled with names like: Tiesto, Nicky Romero and Avicii
A perfect party – what does it take?
The world's top DJ's and a few close friends, a.k.a Ultra Music Festival
What movie did you last see in cinema?
Rush
Coke or Pepsi?
Water 😉
A very interesting interview with the young driver from South Africa. Only one answer still awaits us: Who will be his teammate and who will occupy the other cockpits in the Prosperia C. Abt Racing garage?
A big thank you to Kelvin for his time and great answers. Good luck for your first season in the GT Masters!
---
---