King of the ring: Van der Linde crowned champion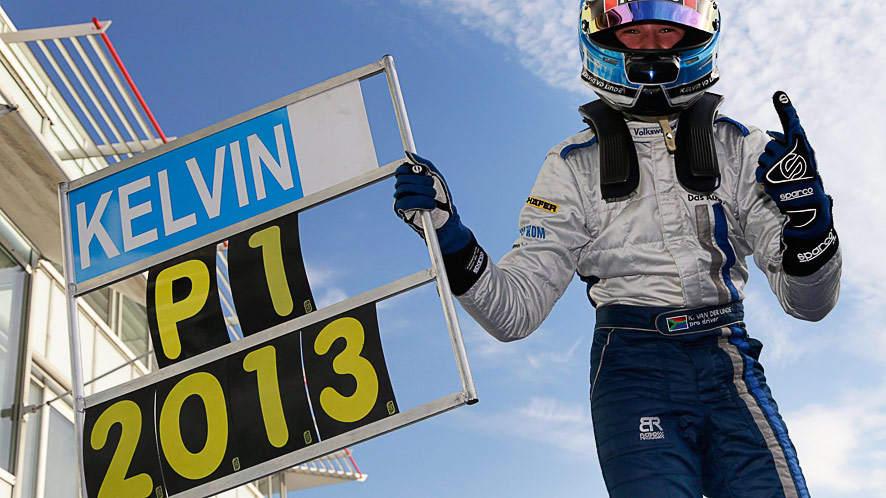 Kelvin van der Linde won the title in the Volkswagen Scirocco R-Cup with victory in the final race.  The 17-year-old South African triumphed in the finale at the historic Hockenheimring, ahead of title rival Kasper H. Jensen of Denmark.
While it was mathematically possible for 3 guys to win the title, going into the final race, it truly was Van der Linde's to lose.  He held a solid lead for almost the entire season, by winning five of the season's nine races.
Van der Linde started down in fifth place, but kept pushing hard, after vowing not to be too conservative in his quest for the title.
He made his way up the order and went on to win the race and the title in spectacular style.  Wrapping up the championship with 348 points, with Jensen runner-up on 295 points.
Last year, Kelvin made SA motor racing history by becoming the youngest winner of a senior circuit racing National championship.
This year, in his debut international season, he dominated the Scirocco R-Cup.
South Africa's young star also earned selection to the FIA Institute's 2013/2014 Young Driver Excellence Academy, by beating challengers from across Africa, to top the regional qualifier.
Next year, Van der Linde plans to compete in the Porsche Carrera Cup.  Earlier this month, he took part in the Porsche Motorsport Junior Programme Scouting in Oschersleben, and was chosen as 1 of the top 4 candidates.  The top driver will be announced this week, and will receive funding for 2014, as a Porsche junior.
"It has been a fantastic year for me.  I am incredibly proud to be the champion of the Scirocco R-Cup."  says the young man.
No doubt – a family and country equally proud!
---
---