Ferodo Racing's Van der Linde retains lead in Engen VW Cup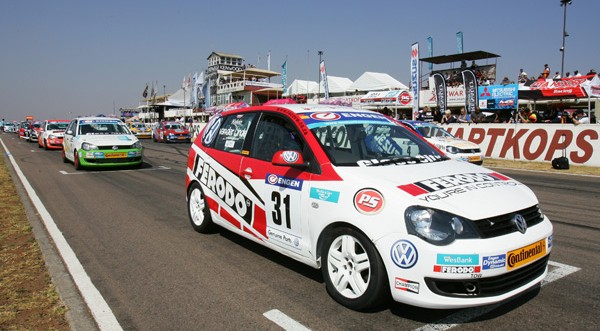 The Johannesburg-based Ferodo Racing team of young guns Gennaro Bonafede, Kelvin van der Linde and Ernie van der Walt
endured a character-building outing at Zwartkops Raceway near Pretoria on Saturday in the seventh round of the WesBank Super
Series.
Van der Linde did well to remain on track to becoming the youngest winner of the one-make Engen Volkswagen Cup in his Ferodo
VW Polo despite losing points to his chief rival, defending champion Devin Robertson.
The 16-year-old grade 10 pupil was disappointed to only come away with a third place in race one and ninth in race two on one of
his favourite circuits, where he has enjoyed considerable success in the past. There was little wrong with his performance in the
first of the day's two 10-lap races.
He drew start position five in the 'lucky' draw and, by the time he had safely negotiated the hectic dash for the opening corner on
lap one that characterises the VW Cup competition, the front runners had already opened up a gap on the rest of the 33-car field.
Finishing on the podium behind Robertson and Jordan Pepper was a good result under the circumstances.
With little luck, he had also drawn number five for the second race and went wide in the second corner and off the track on lap
one, dropping from fifth to 20th. His progress through the big field of production VW Polos was a feature of the race and he
managed to safely pass 10 cars in nine laps before he took the chequered flag.
Despite this set-back and the fact that Robertson followed up his race one win with fourth in race two, Van der Linde enjoys a
useful 35-point lead in the championship with two rounds remaining.
"I made a mistake and paid a big price for it," admitted Van der Linde. "Devin has closed the gap, but we still lead and we'll be
doing everything we can to protect this advantage for the remainder of the season."
---
---